What forms of non surgical treatment do you use for disc herniations?
When a disc herniates, it can be painful, and when it comes to treatment, there is unfortunately lots of misinformation to be found in both doctor's offices and online. Herniated discs are not an ailment that will simply disappear with a little bit of rest and relaxation. Quite the contrary. Spinal issues, including disc herniations, must be addressed as soon as possible to avoid increased pain and limitations.
Herniated discs can quickly morph into an issue that can greatly impact your day to day life, making it difficult if not impossible for you to carry on as you normally would with your daily jobs, tasks, and responsibilities. Chiropractors like Dr. Alex Eingorn understand that quick intervention is the key to a successful non-surgical herniated disc treatment. As a top chiropractor, he goes above and beyond to provide the best quality care possible to his patients.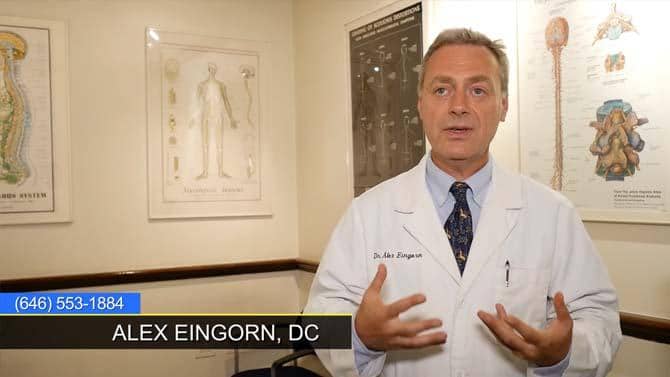 When patients come to Dr. Eingorn for help with a slipped disc, bulging disc, or another form of spinal injury, he takes immediate action to help patients to properly diagnose the problem and craft for them a treatment plan that can help reduce pain and expedite healing. There are a number of different non-surgical treatments including medication, chiropractic care, physiotherapy, and exercise. All of these approaches, either separately or in combination, have been shown to yield great results.
Professional care is a must for those who are dealing with spinal injuries. For those who don't respond to basic conservative treatments, non-surgical lumbar decompression can be a viable alternative.
Medication
There are a number of medications that can help to relieve the inflammation and the pain associated with herniations. NSAIDS, or non-steroidal anti-inflammatory drugs including naproxen and ibuprofen, can help to reduce the area of inflammation around the disc, thereby reducing pain. Oral steroids can also be helpful at reducing inflammation. In cases where severe pain is limiting movement, narcotics may also have their place in herniated disc treatment.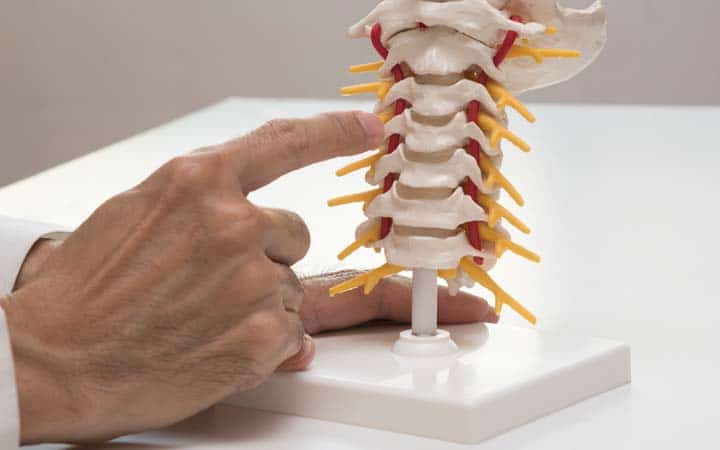 Chiropractic Care: Herniated Disc New York NY
A chiropractor can help address herniated disc issues in a number of ways. From manual therapy to computer-assisted adjustments, seeking the help of a professional can be invaluable at addressing the herniation. Dr. Eingorn offers a number of different therapies to help patients to experience relief, from exercise regimens to state-of-the-art techniques like non-surgical lumbar decompression.
Chiropractic treatments are truly the wave of the future when it comes to treatment for spinal injuries. Not only are they able to help relieve pain and symptoms in many cases, but these natural alternatives to surgery are free of downtime and harmful side effects. Instead of having to stress about whether your treatment will cause additional problems, patients of Dr. Eingorn are able relax knowing that their care is in the competent hands of a professional who is highly skilled at providing treatments such as spinal decompression.
Physiotherapy
Physiotherapy is yet another way for providers like Dr. Eingorn to help patients who are suffering from a slipped disc or other issues. This technique consists of exercises and body positioning as well as tape and braces when needed to place the spine in such a way as to mitigate pain and encourage the bulging disc to heal. A physiotherapist can also help the individual learn what kinds of positions to avoid and which stances can exacerbate the issue.
Exercise
Exercise is an essential component of herniated disc treatment. It's a critical part of a proactive approach to healing as, contrary to what some people think, staying active is really the only way to ensure long-term back health. While a couple of days rest may be necessary during the flare-up of a herniation, staying in bed is never the answer. Your muscles need to be conditioned in order to help facilitate recovery. Without physical activity, treatment is often not as effective.
Exercise is crucial to strengthening the muscles that support the lower back, and strong back muscles are integral to preventing spinal injuries and pain. While intense, grueling cardio programs aren't necessary, aerobic exercises and stretching are great ways to control pain associated with disc herniations.
Along with decompression, exercise can help relieve discomfort and help you get your body and back stronger and more flexible. Swimming, walking, biking, and similar activities can also be great for improving posture and overall strength. If you're new to exercise, even just a small amount to start is great, and better than nothing at all. Ideally, exercising should take place at least five days a week for a minimum of half an hour.
Once you get into the habit, exercise can be a highly enjoyable activity and along with spinal decompression, can be a great means of achieving improved spinal health. With your provider, you can work to determine exactly what types of exercises are best suited to you and your goals. With exercise, you can start small and increase your intensity as you get accustomed to exerting more energy on a daily basis.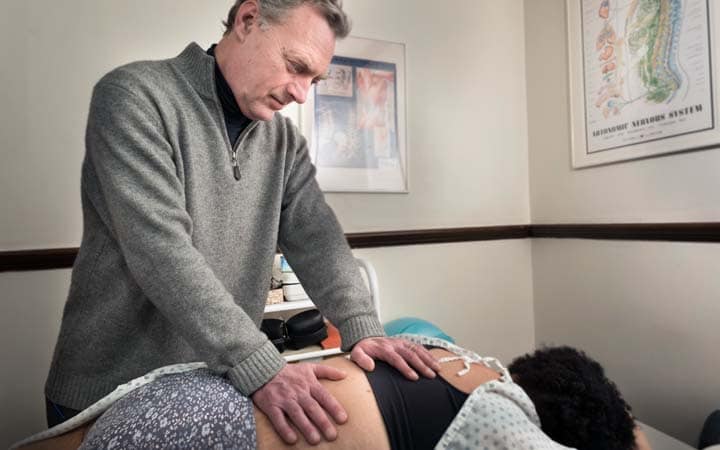 Schedule a consultation with Dr. Eingorn about Herniated Disc New York NY
If you've been experiencing symptoms and you believe that you may be dealing with degenerative disc disease or any injury, you need to seek out professional assistance as soon as possible. Herniated spinal discs require treatment and the sooner you seek help, the sooner you can experience relief.
Neck pain, back pain, and other spinal discomfort is often misdiagnosed, which is why finding a provider who can help you to properly diagnose the problem is a must. Dr. Eingorn has over 25 years helping patients to combat neck, lumbar, and thoracic discomfort caused by injury, herniations, and other conditions. He is highly experienced at providing non-surgical treatments that center around natural techniques such as decompression and exercise.
His friendly staff is eager to answer all questions, and Dr. Eingorn provides each patient with professional advice and a compassionate attitude. If you've been experiencing pain, don't wait to reach out. Give the office of Dr. Eingorn a call today at (646) 553-1884.
Areas of Service
Dr. Eingorn and Better Health Chiropractic PC provide conservative treatment for herniated discs in the back, lower back, neck and spine for patients from these areas of NYC: Manhattan, NYC, Midtown NY, Battery Park City NY, Financial District NY, TriBeCa NY, Chinatown NY, Greenwich Village NY, Little Italy NY, Lower East Side NY, NoHo NY, SoHo NY, West Village NY, Alphabet City NY, Chinatown NY, East Village NY, Lower East Side NY, Two Bridges NY, Chelsea NY, Clinton NY, Gramercy Park NY, Kips Bay NY, Murray Hill NY, Peter Cooper Village NY, Stuyvesant Town NY, Sutton Place NY, Tudor City NY, Turtle Bay NY, Waterside Plaza NY, Lincoln Square NY, Manhattan Valley NY, Upper West Side NY, Lenox Hill NY, Roosevelt Island NY, Upper East Side NY, Yorkville NY, Hamilton Heights NY, Manhattanville, Morningside Heights NY, Harlem NY, Polo Grounds NY, East Harlem NY, Randall's Island NY, Spanish Harlem NY, Wards Island NY, Inwood NY, and Washington Heights NY