Shoulder Pain
As Dr. Eingorn will tell you, pain in the shoulder can result from a number of different problems. While injury is perhaps the first issue that comes to mind, Dr. Eingorn reminds patients that pain of this sort can be due to other problems, often located in the neck. Shoulder impingement is one of the issues that can often lead to shoulder pain. During impingement, the tendons of the rotator cuff become irritated and inflamed. This can lead to intense discomfort that can yield chronic pain. Fortunately, with the care of Dr. Eingorn, patients can experience relief from their discomfort through the use of state-of-the-art treatments and care.
Disc herniations and other problems with the cervical spine can often lead to radiating pain that can reach as far as the shoulders as well as the extremities. In cases like these, a chiropractor like Dr. Eingorn can assist in providing an adjustment or other therapy in order to relieve the discomfort.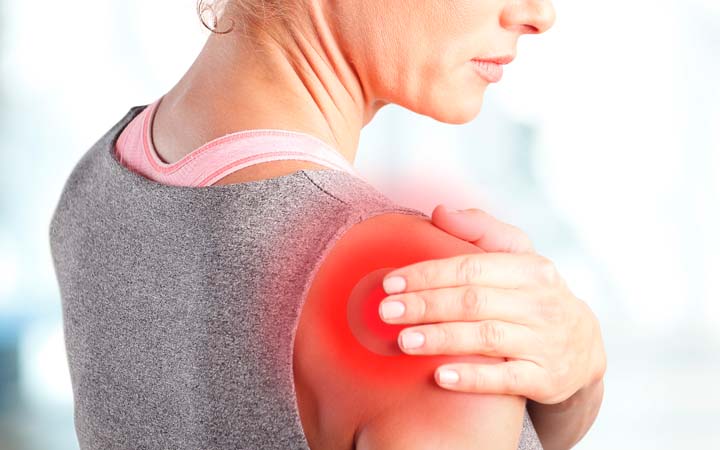 While it can be challenging to determine whether the neck is the actual culprit, a pinched nerve that causes shoulder pain will often cause discomfort in other areas of the body as well. Known as cervical radiculopathy, this discomfort can vary in intensity as well as location. Tingling is another common sign of pain caused by the neck. Weakness and numbness are other tell-tale symptoms of cervical radiculopathy, and these issues can occur everywhere from the neck to the extremities as well. In the majority of cases, cervical radiculopathy is experienced on only one side of the body.
Dr. Eingorn has found that there are a number of issues that can result in CR. These include, but are not limited to:
Cervical degenerative disc disease – loss of hydration between the vertebrae
Cervical herniated disc – leaking of the vertebrae, leading to inflammation and irritation
Cervical osteoarthritis – arthritis in the facet joints that leads to irritation of the nerves
Cervical foraminal stenosis – compression of the nerve root

If you believe that you are experiencing CR, don't wait to seek out the help of Dr. Eingorn. Prompt therapy is crucial in order to prevent increased pain and even permanent nerve damage, so don't hesitate; schedule an appointment for the care you need at the earliest opportunity.
Schedule An Appointment,
Call Now.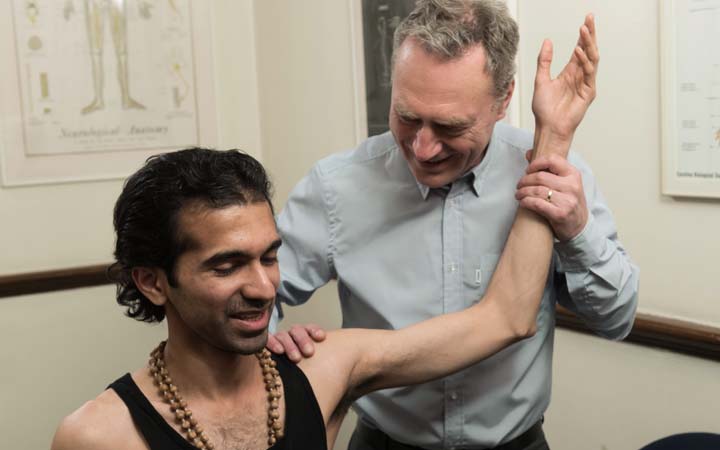 How Dr. Eingorn Treats Shoulder Pain
Dr. Eingorn is well-versed in a number of different treatments and methods used in order to treat both chronic and acute pain in the shoulder. He carefully personalizes each treatment to ensure that it offers the best possible results to his patients. Perhaps one of his most sought-after methods is that of spinal adjustment and decompression. Through the use of the DRX9000, a computerized tool that gently manipulates the spine, Dr. Eingorn is able to help patients by relieving pressure on the nerves and realigning the vertebrae. The DRX9000 is a state-of-the-art machine that is capable of targeting specific vertebrae in the spine. Through the use of gentle pushing and pulling motions, the machine gradually corrects misalignments, relieves pressure, and alleviates the pain.
Not only does he focus on providing quality, cutting-edge care, but Dr. Eingorn also takes a very cooperative approach to chiropractic treatment of shoulder and neck pain, which means that he works closely with general practitioners and primary health providers in order to better understand a patient's medical history. After all, his ultimate goal is to make sure that he makes an accurate diagnosis so that he can devise an appropriate treatment plan.
At the chiropractic clinic, Dr. Eingorn founded Better Health Chiropractic, core services revolve around chiropractic care because all of the systems are impacted by what is happening in this central area of the body, the spine. The spine is "our core," and is often negatively impacted by the way we live a modern life. From how you walk, exercise, or eat, to weight gain weight or spending too many hours at a desk, joints become misaligned. Before long the surrounding muscle tissue, and eventually your whole system is negatively affected.
Medically, chiropractic care is known for restoring proper alignment and free and full motion to your joints, especially the many areas of the spine. This, in turn, maximizes the proper functioning of the central nervous system and the flow of blood and healing fluids. Issues such as neck and back pain, joint pain, headaches, muscular imbalances and/or muscle spasms, even body coordination, can be corrected or healed by chiropractic adjustments by a knowledgeable practitioner like Dr. Eingorn.
Stress, poor nutrition, or lack of exercise can also impact your overall health by putting a strain on your immune system. Dr. Eingorn offers many additional treatment options that involve the rejuvenation of your body, including detoxification methods, activities for improved muscle tone, and methods of meditation and therapies that can help you regain your balance and become more centered. The positive effect this has on your energy, health, and quality of life cannot be overstated.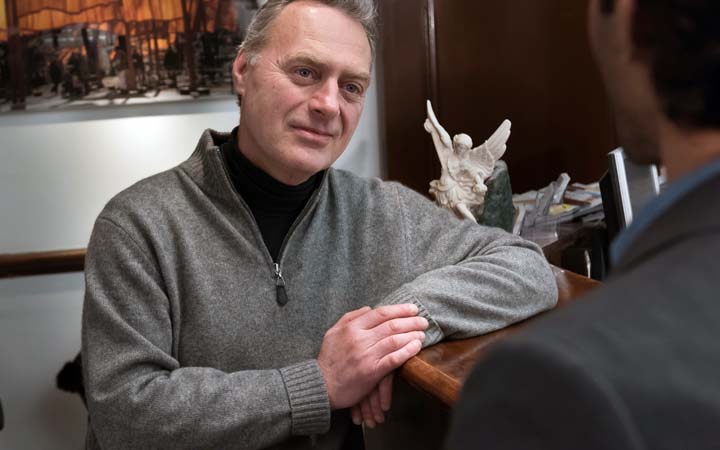 Shoulder Pain Treatment Options
For more than 25 years, Dr. Alex Eingorn has worked with countless patients who are dealing with issues relating to subluxation of the vertebrae. He combines a cooperative, detailed approach with compassionate and friendly care in order to offer his patients an experience that is both enjoyable and effective.
Dr. Eingorn has set himself apart from other provides in his field by offering an integrative approach that focuses on combining the best of modern methods with traditional, holistic philosophy. From your initial assessment to your final visit, you can rest assured that you will be in the competent hands of a professional who is truly committed to your well-being and spinal health. To have your questions answered or to schedule a consultation at Better Health Chiropractic, don't hesitate to give our practice a call today during our convenient office hours.