Subway Mantras
A User-Friendly Guide To Daily Enlightenment, Contentment, Happiness, and Satisfaction
Subway Mantras is a short book of practical mantras that can be used every day of the week. Mantras are cogwheels of universal engines and have been practiced around the world for thousands of years, and when used properly, will help anyone achieve anything that is desired.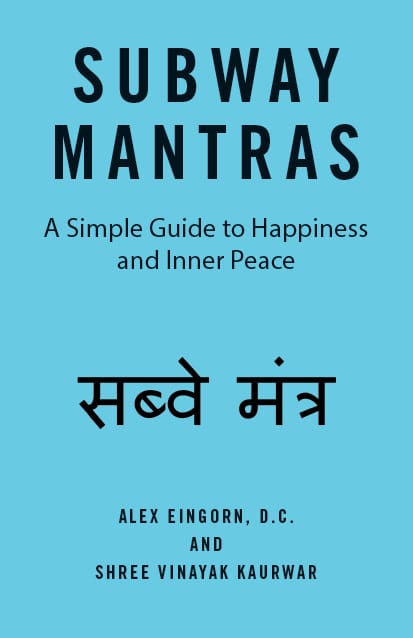 Get Your Copy of Subway Mantras Today.
The Subway Mantras Story
You may have noticed the "Subway Mantras" recently. In spite of the book being very short (probably 10 minutes cover to cover), it is really a workbook, and it may take some time to truly appreciate the power of the ancient technology that it presents. It was not a frivolous project as it took almost ten years. It all started when I sheepishly said to my teacher Shree Vinayak, while doing yoga, "I wish I could read Sanskrit", to which he replied: "Very easi, I teach you". That, he did.
It took about one year to learn the basic alphabet (follow the rule of one hundred), and after that it was falling down the rabbit hole – curiouser and curiouser…
A few years later I had become a very big fan of the mantras. All kinds, including Vedic. I discovered that their sound and vibration were very soothing and grounding, when followed properly. One day, seemingly by chance, even though there is no such thing, I came across a protective/shielding mantra. I must say that the Bagala Mukhi mantra is really beautiful, and its power almost unimaginable. In order to make the mantra your own, one must learn to say it, write it, and repeat it a certain number of times. In my experience, the more the better. For the next two weeks I rolled this mantra around my mouth and my brain any time that was free of my clinical decision making. It felt grounding.
Meanwhile, one of my friends, whom I met at the "Art of Living" workshop a few years prior, and who happens to be a noted worldly lecturer on the physiology of yoga, sends me a birthday gift of a reading by a very established astrologer in London, who on occasion, advises the British Royalty (talk about giving the right advise to some interesting crowd), and would I please send my information, date, exact time, place of birth, as well as the given name, which I gratefully did.
Two weeks later I got this:
"Hello
 Unfortunately i am not getting any real energy to read your friend Alex. i have done what i can, but his soul isn't interested in me doing any more. Does he know that i am reading him?
Please read what i have written…Is it Him?
he feels distant and well unresponsive. Even though i know he is usually a Big personality….
Anyway i have spent nearly two hours trying to make a connection…
He maybe scared of what i find out..he is definitely blocking me…….consciously…okay
He is very very special person…maybe we have past life karma and he wont speak to me…lol
So Sorry. I would give you a refund but i have been trying for hours…..;-)"I thought that it was really strange. I've never had that happen to me. I've had a few readings done for me over the years, and all, except for one were spot on. This puzzled me until two days later, as I was walking by the East River, as I do most mornings, reciting the mantra. I stopped in my tracks and thought to myself: "Wait a second, can it be?"
I did not say anything to anyone, but I stopped the Bagala Mukhi and went on to a different mantra that had nothing to do with shielding. I also sent a note to my friend to please ask the reader to try one more time. Within a few days I received a reading that was incredible. There were things that I never told anyone. It was extremely en pointe and helpful.
After that I decided to start experimenting with various mantras for various situations. Thank God! I have come to discover that when used properly, they all do what they are designed to do. It is like a computer program, only really, really old.
So the "Subway Mantras" are your key to discovering this ancient world of magic, which is so much in need today.
I hope that you put it to good use.
About the Authors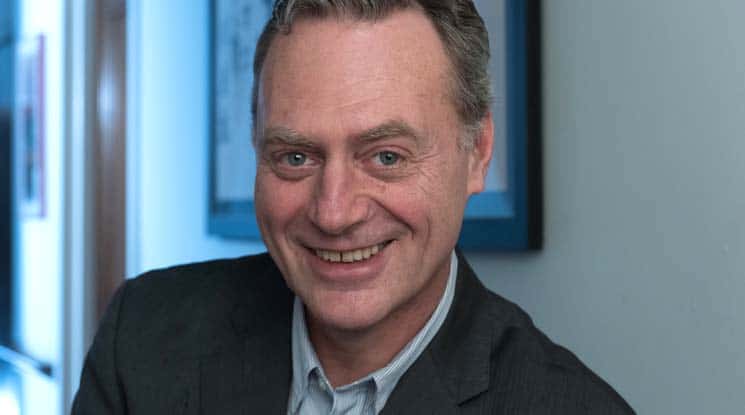 Dr. Alex Eingorn founded one of NYC's first multi-disciplinary healthcare practices in 1989, where he uses a balance of traditional and state-of-the-art chiropractic techniques to help patients regain and maintain their health and vitality.
In 2002 he met Dr. Madan Kataria, became a Laughter Yoga Leader, and has been leading and hosting weekly Laughter Yoga sessions since. In 2004 he met Shree Vinayak, which started his journey into more traditional Yoga studies. Inspired by the magical singing of Russil Paul, he decided to study Mantras in greater depth. In 2010 he became the Laughter Yoga Ambassador to the UN. This has lead to interviews on NBC's Today Show, ABC's Good Morning America, CBS, Good Morning Japan, and other international television networks.
In 2014 he finally completed a 500-hour certification in Advaita Yoga (Yoga of Non Duality). Alex has been studying and practicing Mantra to overcome many personal and professional issues, such as PTSD, financial crisis, rearing children, and many more challenges, which has led to the creation of this book.
Vinayak Kaurwar, also known as "Shree" to friends and clients, has studied with several masters in the light of Sanskrit scriptures of Yoga and Ayurveda. Born in Nagpur, India, Shree has been practicing yoga since the age of five.
His spiritual journey has brought him as a disciple to several spiritual masters, one of whom lives deep in Tadoba National Park in the holy forest of Ramdegi. Additionally, he has been conducting research on longevity for the past 22 years with Himalayan yogis and masters, and as part of this inquiry, he meditates and practices yoga 4 to 6 hours a day.
Teaching both groups and individuals in NYC since 1996, Shree currently offers workshops on how to decrease stress levels through the practice of the Eight Limbs of Yoga, as well as Panchakarma healing workshops to add healthy, productive years to people's lives. He also teaches Sanskrit texts to individuals and groups, including Dr. Eingorn.