What is Movement Therapy?
Good chiropractic care is not a luxury that eases minor muscle aches and pains, although it can accomplish that easily. Chiropractic care is effective preventative care and a natural medical treatment option for many serious conditions. Dr. Alex Eingorn is a medical doctor and experienced chiropractor who founded Better Health Chiropractic PC to serve the New York City area with excellent preventative care for your spine.
The spine runs the whole length of the torso, from the base of the neck down to our tailbone. Any misalignment, no matter how minor, can cause problems. Misalignments can be caused by any number of things, but Dr. Eingorn often finds that people in pain have not been educated in proper movement.
Alex Eingorn D.C. is an experienced chiropractor who is also an expert in movement analysis and who can prescribe movement therapy as part of an overall treatment plan. He offers gait and movement analysis, followed by movement therapy and training because so many of his patients suffer from back, shoulder, neck and joint pain when they don't have to. If he suspects a condition is being caused by poor movement, he will recommend this simple, important analysis and therapy.
When the spine is aligned we move with ease. With the vertebra in place, muscles and tendons remain soft and pliable. We can stand, lift, sit, climb, walk or run as the body is designed to. When we move improperly, especially repeatedly, joints in the spine tend to go out of whack. Then our muscles and tendons mal-adapt around that misaligned joint. This causes stiffness and pain, sometimes to the extreme. To avoid this pain, we begin to move in an even more erratic way, which leads to more misalignment. You might also experience a more limited joint range (range of motion), or an ability to maintain your balance.
Dr. Eingorn's movement sessions are a great assessment tool. If they indicate that a vertebra out of place, he can prescribe movement therapy and exercises that will help you learn to move properly and keep your spine perfectly aligned.
Schedule an Appointment
with Dr. Eingorn. Call Now.
How Does Dr. Eingorn Use Movement Therapy?
Dr. Eingorn observes patients to understand problems they have with their movement, especially their gait.Gait analysis is a tool that he uses to understand how to treat his patients
The spine is a marvel, but it must be cared for like any part of the body. Learning proper movement and seeing a chiropractor regularly is part of good health regimen. Trying to live with with constant pain, stiffness or inability to participate in physical activity is no way to live. Dr. Eingorn is an excellent physician and chiropractor who has made it his life's work to study the human body and the importance of proper movement.
How you carry yourself, your posture as you walk, stride, run, climb, or lift, even how you sit, is of critical importance. However, we rarely pay attention to how we move. You hear a lot about "working your core," during exercise, or the importance of building "strength in your core" to alleviate certain conditions. We hear less about the curvature of the spine and how it is designed to move in a certain way to support us as we move. Many of Dr. Eingorn's new patients arrive with little knowledge of proper movement and the role that it has played in their discomfort. Back pain, neck stiffness, headaches, joint swelling and stiffness, often these issues can be traced back to improper movements that have negatively impacted the spine. Dr. Alex Eingorn is an expert in movement and movement therapy. He uses this analysis and training as part of a larger plan to make sure that once patients receive chiropractic treatment and relief, their problems don't return.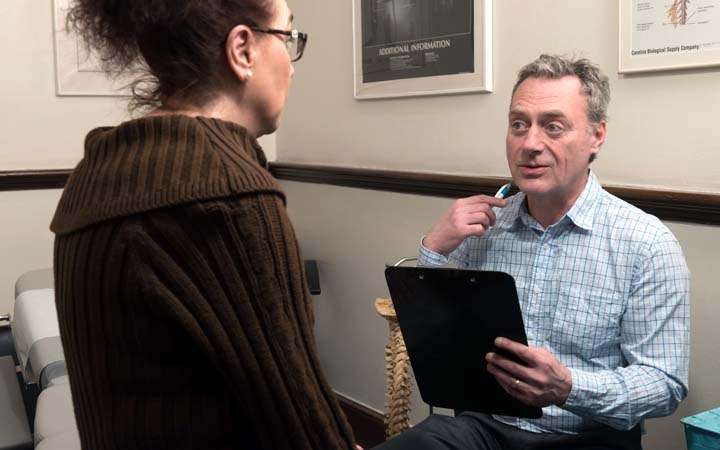 Schedule a Movement Therapy Consultation
No one condition or person is exactly alike. Rather than attempt a cookie cutter prescription that treats symptoms rather than root causes, Dr. Eingorn uses his thirty years of experience as a physician, chiropractor and holistic practitioner to get to the bottom of your problems. Better Health Chiropractic PC is a full service clinic, with a range of offerings that addresses all sorts of conditions, especially those that are recurring and seem untreatable.
As a chiropractor, Dr. Eingorn has helped hundreds of patients who thought their conditions were chronic, find complete and long lasting relief.
Why be forced to accept temporary solutions and short term relief, when you can enjoy long term health and a higher quality of life? You too can experience freedom from pain, limited movement, stress and stiffness by calling Call Dr. Eingorn at 212-956-5920. Take that first step toward enjoying a beautifully aligned spine, pain free movement and restored health.