Dr. Eingorn is a chiropractor who treats patients with spinal injuries and ailments, such as herniated discs. He can provide a comprehensive herniated disc consultation and evaluations in order to better ensure that all issues are addressed in the most effective manner.
Patients who are living with neck or back pain, a bulging disc, a slipped disc, or other similar problems have found Dr. Eingorn to be very thorough in his evaluations and diagnoses. This has given his patients true confidence in his techniques and in his ability to provide care and treatments that will yield successful, positive results.
How long does the herniated disc consultation appointment last?
The initial patient consultation for a herniated disc with Dr. Eingorn can take an hour, an hour and a half, or even longer depending on the number of things that have to be discussed. His goal is to make sure to cover your medical history, symptoms, and any other pertinent items in order to effectively diagnose the problem and develop an effective treatment plan.
Dr. Eingorn believes in taking all of the time necessary to get to know you and your case. He never rushes his patients and he always does his utmost to make patients feel comfortable and welcome. He happily answers any and all questions and encourages patients to be an active part of their treatment. He makes sure to keep his patients informed every step of the way and he discusses all options before a treatment plan is decided upon.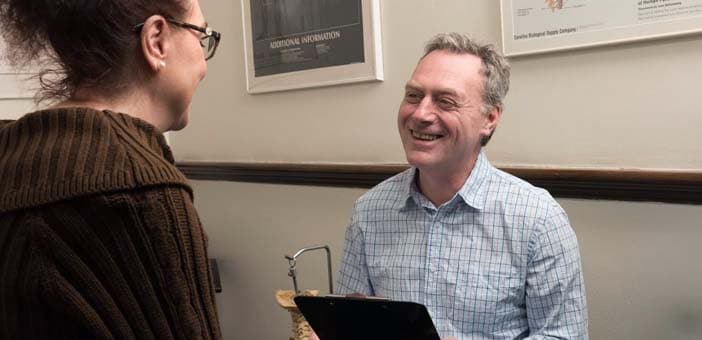 Patient Interview and Herniated Disc Consultation
During the initial patient consultation for herniated disc, Dr. Eingorn will provide the patient with a questionnaire to complete. This form will provide him and his staff with information regarding the patient's medical history and past medical issues or preexisting conditions. This questionnaire is very thorough and can be very useful at helping Dr. Eingorn to diagnose the problem and devise an appropriate treatment plan.
Once the patient has completed the questionnaire, Dr. Eingorn will conduct the interview during which he will ask about the symptoms being experienced. You'll be asked if you've been experiencing any shoulder pain, migraines, neck pain, back pain, and similar discomforts. Once Dr. Eingorn has enough basic information to have a better idea of what the problem might be, he'll begin to ask more detailed questions in order to hone in on the root cause of your pain.
The questions asked during the interview will vary depending upon the types of symptoms you've been experiencing. However, the following are some questions that you can expect:
When did the pain begin? What do you believe caused the pain (an injury, accident, etc)? Have you experienced this type of pain in the past? All of these probing questions are key to identifying those items that can help in the proper diagnosis and treatment of the problem.
Patient Examination
Once Dr. Eingorn has spoken with you about your symptoms and what you believe the problem to be, he'll conduct a comprehensive exam that will go over everything from your vital signs to your orthopedic and neurological health. He will pay close attention to the sensitivity of your vertebrae, your range of motion, and any other limitations you're experiencing due to either discomfort or illness. This examination allows Dr. Eingorn to rule out certain issues and narrow his focus on what the actual problem might be, be it a disc herniation, a bulging disc, or other issue.
Clinical Decision
Once the exam is complete, Dr. Eingorn will proceed to confirm the diagnosis or make what is known as a "clinical decision". In other words, he'll be able to inform you as to whether a slipped disc, herniation, or other spinal injury has been the cause of your discomfort. In most cases, this diagnosis can be reached soon after the initial exam. However, there are some cases where further investigation in the form of blood tests or imaging may be necessary.
Dr. Eingorn believes that the path to successful treatment means having a cooperative approach. He believes in working closely with primary care providers and general practitioners to learn more about each patient's medical history so that he has the most complete picture possible before designing the patient's herniated disc treatment program. Once it's been determined that the cause of the pain is in fact a disc herniation, Dr. Eingorn will discuss your options with you and begin to craft your treatment plan.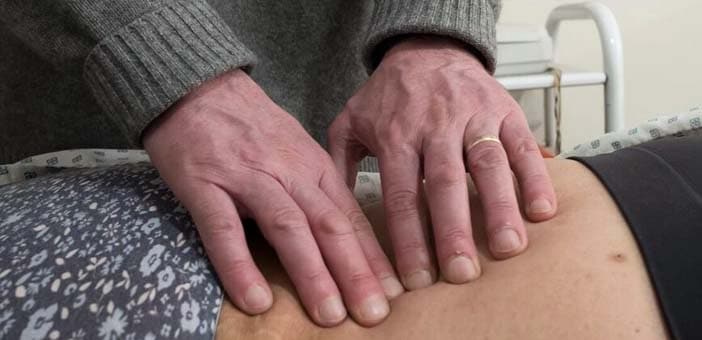 Treatment for a Herniated Disc
Fortunately for those who require herniated disc treatment, there are a number of alternatives to surgery. In fact, Dr. Eingorn believes that the majority of herniations can be treated using natural, non-invasive techniques like physiotherapy, chiropractic care, and decompression. Chiropractic care and non-surgical lumbar decompression have been shown to be highly helpful at reducing pain while physiotherapy can help patients to learn which positions to embrace and which to avoid during the healing process.
As an experienced chiropractor, Dr. Eingorn has helped many patients to heal from a number of spinal injuries and other issues, including herniated discs. What treatment is used will depend largely upon the type and scope of your injury and your individual medical history. Dr. Eingorn is truly at the top of his field when it comes to herniated disc treatments, and he makes sure to use only the highest quality, most state of the art procedures, such as non-surgical lumbar decompression, to help patients to restore their range of motion and alleviate pain and discomfort.
Schedule a Consultation with Dr. Eingorn
If you've been experiencing pain in your neck or lower back and you're interested in an accurate diagnosis and learning more about spinal decompression and other similar treatment methods, we hope you'll consider paying Dr. Eingorn a visit. His approach to decompression and similar treatments is sure to inspire confidence as is his over 25 years of experience in the field of spinal health.
If you've been living with pain, don't wait one more minute to seek out help. To schedule your appointment or to ask any questions you might have about our practice and spinal decompression, give us a call today at 646-553-1884.
Areas of Service
Dr. Eingorn at Better Health Chiropractic PC (https://betterhealthchiropracticpc.com/) provides consultations and treatment for patients that have herniated discs in the back, neck and spine. Most patients that see Dr. Eingorn come from these areas of NYC:
Manhattan, NYC, Midtown NY, Battery Park City NY, Financial District NY, TriBeCa NY, Chinatown NY, Greenwich Village NY, Little Italy NY, Lower East Side NY, NoHo NY, SoHo NY, West Village NY, Alphabet City NY, Chinatown NY, East Village NY, Lower East Side NY, Two Bridges NY, Chelsea NY, Clinton NY, Gramercy Park NY, Kips Bay NY, Murray Hill NY, Peter Cooper Village NY, Stuyvesant Town NY, Sutton Place NY, Tudor City NY, Turtle Bay NY, Waterside Plaza NY, Lincoln Square NY, Manhattan Valley NY, Upper West Side NY, Lenox Hill NY, Roosevelt Island NY, Upper East Side NY, Yorkville NY, Hamilton Heights NY, Manhattanville, Morningside Heights NY, Harlem NY, Polo Grounds NY, East Harlem NY, Randall's Island NY, Spanish Harlem NY, Wards Island NY, Inwood NY, Washington Heights NY