What is a disc herniation?
A herniated disc refers to an issue of the spine in which the interior portion of a spinal disc (nucleus pulposus) pushes outward through a rupture in the disc's exterior (annulus fibrosus). Herniations can lead to a number of problems including irritation of nearby nerves, numbness, weakness, and usually, extreme pain. Some literature compares the pain of a herniated disc to the pain of labor. However, in some cases, symptoms of the herniation are more subtle, leading to the issue to go uncorrected.
How can I tell if I have a herniated disc?
It's possible to be living with a disc herniation without knowing it although this is hardly common. There are a number of herniated discs symptoms you might experience, some of which can be quite debilitating and painful. The most likely herniated discs symptoms include:
Leg and/or arm pain: If the disc is located in the lower back, the pain will typically be located primarily within the calf, thigh, buttocks and the feet.
When in the neck, herniations can cause the most intense pain within the neck, arms and shoulders. Radiating pain is also quite common.
Tingling or numbness
Weakness: Muscles in connection with the affected nerves will likely weaken after a herniation.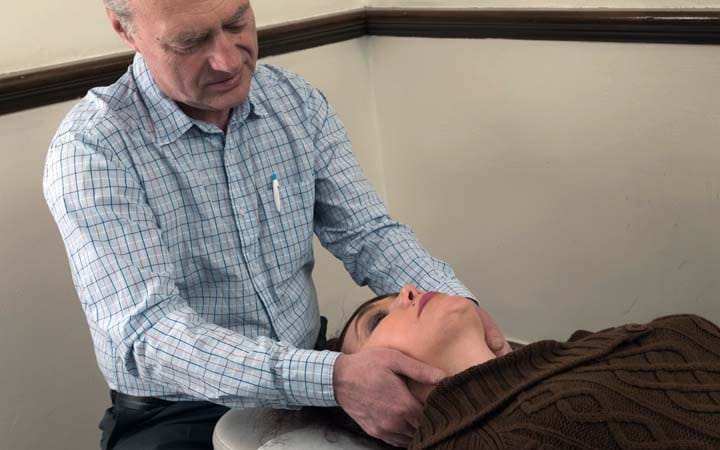 What causes disc herniation?
Aside from trauma, like car accidents, and sports, In most cases, disc herniations are caused by gradual wear and degeneration of the discs. As the spine ages, the discs will tend to lose water from their interior. This leads to reduced flexibility and an increased likelihood of rupture. In some cases, even a simple twist of the body can result in a herniation. While a single physical move can result in an immediate herniation, it's unlikely that a person will be able to identify the exact time the problem occurred. Falls, blows, or simply using your back instead of your legs to lift a heavy object can be the culprit for a herniation.
How is a herniation diagnosed?
In order to diagnose the problem, the physician will ask you some questions about the pain. For example, is it low back pain or another type of discomfort? The provider may ask you to lay flat and to move your legs, arms, or shoulders in order to identify the source of the pain. While a thorough physical exam is typically all that is needed, your doctor may also require imaging , such as X-rays, CT scans, and MRIs.
What are the treatments used to treat the problem?
The types of herniated disc treatments used will depend on whether the patient is dealing with low back pain or another type of issue. In some cases, conservative treatment is all that is required. Simply avoiding certain positions and following recommended exercise regimens can help to relieve the pain. Mainstream medicine usually offers over-the-counter and prescription medications. Depending upon the patient, the provider may also recommend spinal injections, muscle relaxants. for herniated discs.
Chiropractic treatment and non surgical disc decompression, and traction have shown great promise at treating herniations. These types of therapy serve as an alternative to surgeries which are typically only used as a last resort when the pain and the herniation is not resolved by using other methods. Both non surgical lumbar disc decompression and chiropractic treatment are therapies that are personalized in order to help each particular patient.
Call Dr. Eingorn for a consultation
If you have been living with intense pain that tends to radiate throughout your extremities, you may likely be dealing with a disc herniation. If you would like to learn more about the herniated disc treatments available to you, give the office of Dr. Eingorn a call at 212-956-5920.  ( https://betterhealthchiropracticpc.com/) He offers a number of different treatment options and will work closely with you in order to determine which choice is the best for you and your spinal health. The most important aspects of all this are timely, accurate diagnosis, and appropriate treatment.
Areas of Service

NYC Chiropractor for Herniated Discs
Dr. Eingorn and Better Health Chiropractic PC provide conservative treatment for herniated discs in the back, lower back, neck and spine. Many of Dr. Eingorn's patients either work in Manhattan or come from these areas of NYC:
Manhattan, NYC, Midtown NY, Battery Park City NY, Financial District NY, TriBeCa NY, Chinatown NY, Greenwich Village NY, Little Italy NY, Lower East Side NY, NoHo NY, SoHo NY, West Village NY, Alphabet City NY, Chinatown NY, East Village NY, Lower East Side NY, Two Bridges NY, Chelsea NY, Clinton NY, Gramercy Park NY, Kips Bay NY, Murray Hill NY, Peter Cooper Village NY, Stuyvesant Town NY, Sutton Place NY, Tudor City NY, Turtle Bay NY, Waterside Plaza NY, Lincoln Square NY, Manhattan Valley NY, Upper West Side NY, Lenox Hill NY, Roosevelt Island NY, Upper East Side NY, Yorkville NY, Hamilton Heights NY, Manhattanville, Morningside Heights NY, Harlem NY, Polo Grounds NY, East Harlem NY, Randall's Island NY, Spanish Harlem NY, Wards Island NY, Inwood NY, Washington Heights NY